National Cheese Day
National Cheese Day is observed next on Sunday, June 4th, 2023 (252 days from today).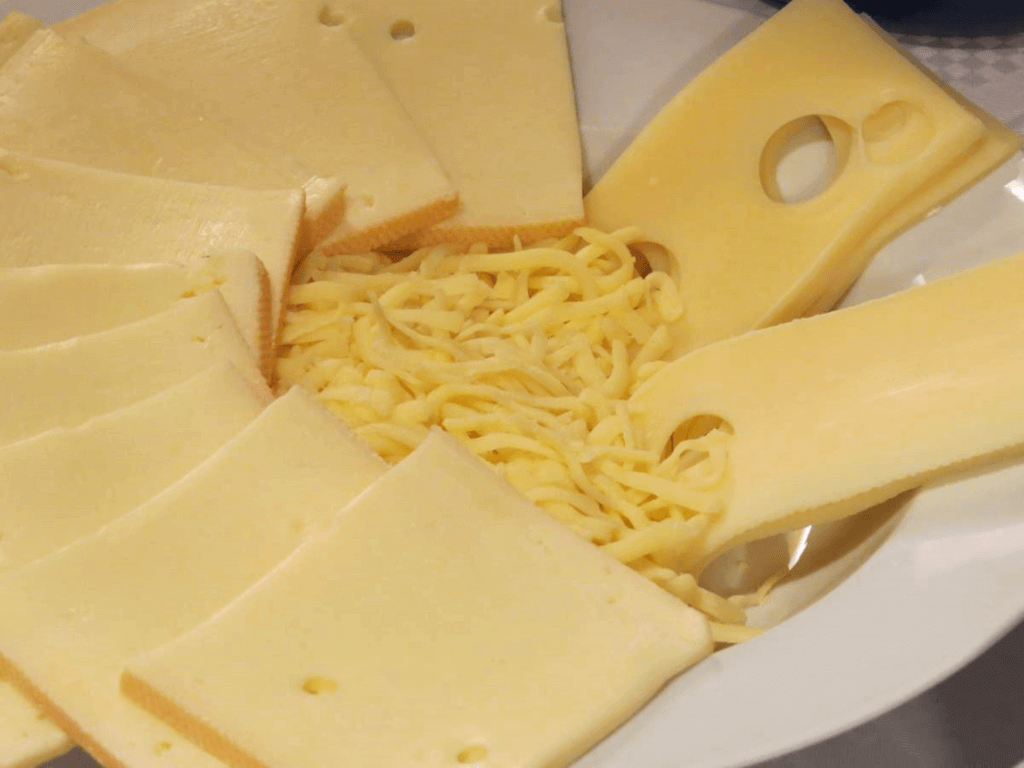 While there are certainly some people who don't like cheese or can't eat it for health reasons, most others will agree that it is one of the best ingredients for recipes ever made!
After all, many different types of cheese exist, and there are many ways to enjoy it. From grilled cheese sandwiches to pizza, to various pastas and sauces, cheese can be gobbled up in many ways.
For those who are die-hard cheese fans, this day offers the perfect opportunity to eat to your heart's content.
It's time to celebrate National Cheese Day!
Some knowledge about Cheese
Cheese is produced from pressed curd. Milk can be from cows, buffaloes, goats or sheep. Temperature and aging affect the flavor and texture of the cheese, as well as the other spices and seasonings added in the process.
The opportunity to go for a cheese tasting or to meet a cheesemaker knowledgeable about pairing will improve your ability to enjoy the cheese you choose. Does Stilton melt? Can you serve Chévre with a salad? Let ask questions and give your preferences. Your favorite wine may find a new snack. You might spot a smoky baguette to go with bruschetta or an aromatic cheddar cheese to wrap with lunch.
In the United States, a road trip to Wisconsin is not out of the question of quality and variety. However, they are not the only place to find outstanding flavors and choices. Local food outlets with a wide selection of local and imported cheeses, and independent stores offering rotating stock invite us to keep visiting to see what's new.
Great as a snack, cheese is also a perfect ingredient in pasta, soups, soups, and many other recipes. We whip it up on a cold sandwich, but why stop there when it can be toasted and melted like this amazing Swiss and tomato grilled cheese recipe. When you visit, nothing beats a piece of cheese, especially when bacon is added.
Cheese is also multinational! Every country in the world has its own variety of cheese. Italy seems to have tapped the market. They added it to the pizza, and that's pretty awesome. Enjoy the opportunity if you get the chance to taste cheeses from all over the world. For example, jump over Greece. They have this dessert called cheesecake. Tasty!
Some numbers you should know about cheese
4% - The percentage of all cheese sold that is ultimately stolen.
1,400 pounds - The weight of a block of cheddar cheese that President Andrew Jackson once delivered to the White House.
2 - 10,000 visitors to the White House take many hours to complete the block of cheddar cheese.
17th century – It was the period when they started dyeing cheese orange to fool people into thinking it was higher quality.
½ - Total cheese consumption in the world is Gouda cheese.
1,000 - Estimated number of different French cheeses.
1615 BC – It was the time that the oldest known cheese was discovered in China.
History of National Cheese Day
Cheese making is an ancient profession, some might even say sacred, handmade. So, in fact, it predates recorded history. It is speculated that the magic of cheese making began around 8000 BC shortly after animals were domesticated. Archaeological excavations have found evidence of cheese around the world including a filter coated in milk fat molecules in Kuyavia, Poland dating to around 5500 BC, murals in Ai Egypt dates back to 2000 BC and a preserved cheese artifact in Xinjiang, China is believed to be more than 3,000 years old! European imperialism carried their cheese style across Asia, sub-Saharan Africa and eventually the Americas.
The most common cheese is mozzarella cheese. This delicious and savory cheese topping was first created near Naples from the fat milk of water buffaloes. At the time, it rarely left home near Naples, as it was made from pasteurized milk, and the lack of a refrigerator meant it had a very short shelf life. As both cheese technology and refrigeration systems advanced, this delicious cheese made its way out of southern Italy and around the world.
There are two types of mozzarella made in the United States - low moisture and high moisture. Low moisture mozzarella cheese has less than 50% moisture content while high moisture content has more than 52% moisture content. Low moisture content is specially made for shipping and mass production because lack of moisture will give it a longer shelf life.
Today, cheese dishes can be found on every continent, serving savory, sweet, melted, deep-fried, and even chilled dishes in ice cream. This home staple can still satisfy any craving after thousands of years.
How to celebrate National Cheese Day
Make some of your favorite cheese to enjoy alone or with friends. Try working with new and international varieties that you haven't tried before. Check out for ideas on the best meat, wine, and veggie pairings.
You might be surprised at how many cheese-themed educational experiences there are. Learn how to make your own cheese at home, make the perfect drink and food pairing, or discover a new cheese dish. With workshops, live classes, and free online tutorials, you can learn so many ways to enjoy this ancient tradition.
Whether it's the traditional comfort food of mac n cheese, the tangy sweetness of cheesecake, or the contemporary take on the pull-back, there are countless cheese recipes to try. Why not try a new twist on the home recipe or search the internet for the latest cheese trends. You can start simple with this five-ingredient ricotta cheese recipe.
Learn about Different Types of Cheese
There are many varieties and varieties of cheese available from cultures around the world. From the popular and well-known ones, like brie and cheddar, to some lesser-known and more distinctive varieties, like burrata or lancashire cheese. In fact, it is rumored that they even sell breast milk cheese in New York!
Check out the following unique and interesting cheeses:
Olomouc Cheese from the Czech Republic. This cheese is somewhat famous for the fact that it has a very strong smell (some would say stinky!). Walk into any store that sells it and it's the first thing anyone can smell! Named after the city where Moravia originated, this is a soft ripe cheese that has been made for over 600 years.
Drunken Goat Cheese from Spain. This is made by aging unpasteurized goat cheese in red wine for about 48-72 hours. This is a semi-hard cheese also known as Murcia al Vino, just the type of goat it is made from.
Gjetost Cheese ("yay-toast") from Norway. This unique cheese is made from a blend of cow's milk and goat's milk. It is blocky and has a dark orange, almost brownish color that makes it look like chocolate. Plus, it's a bit sweet so it tastes a bit like caramel fudge - perfect with a cup of coffee!
Why we love National Cheese Day
We love to try our taste buds on new adventures! Today could be about trying more than cheese. Wine, beer, meat, vegetables, desert… all available and we can't wait.
An international staple, National Cheese Day opens the door to many new cultural experiences. We love being able t bonding o discover new foods, cultures and traditions.
We love to break bread and make new memories with the people we love.
Observed
National Cheese Day has been observed annually on June 4th.
Dates
Friday, June 4th, 2021
Saturday, June 4th, 2022
Sunday, June 4th, 2023
Tuesday, June 4th, 2024
Wednesday, June 4th, 2025
Also on Sunday, June 4th, 2023
You may so like