National Burrito Day
National Burrito Day is observed next on Thursday, April 6th, 2023 (124 days from today).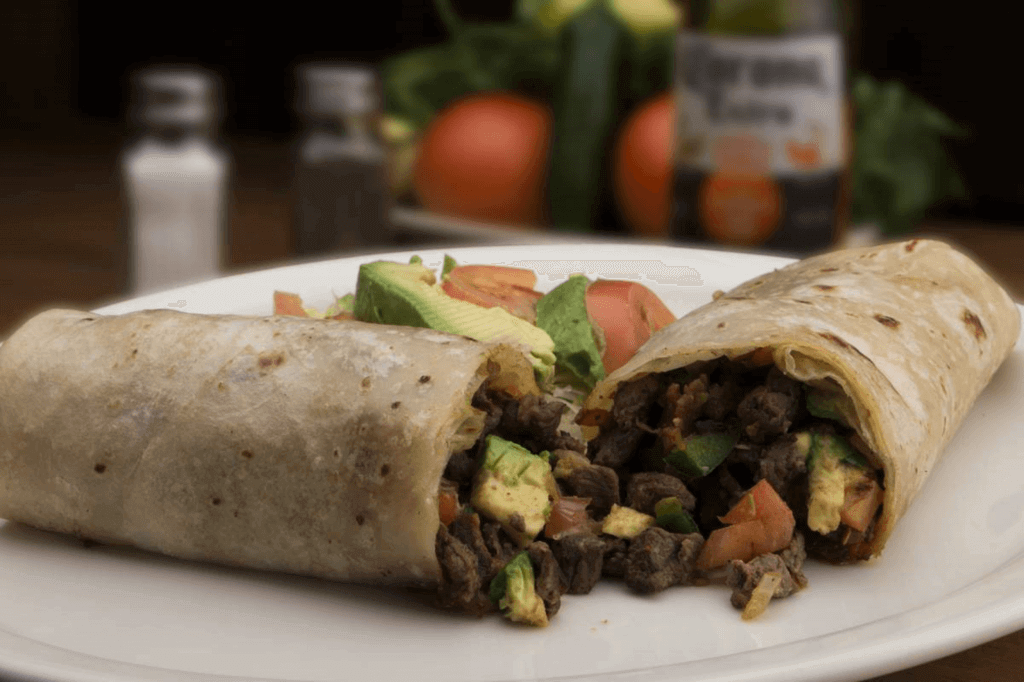 The first Thursday of April is National Burrito Day to honor people's appreciation for burrito. Celebrate the holiday with us today by eating as many burritos as you want. We are not here to judge.
History of National Burrito Day
Today, we celebrate and enjoy burritos, made by wrapping tortillas around fillings like beans or roasted beans, meat, rice, salsa, guacamole, shredded cheese, sour cream, lettuce, eggplant sour and other vegetables. They can be eaten with your hands or can be served "wet"—topped with a sauce—and eaten with a fork. The burrito bowl has all the ingredients of a burrito except for the tortillas.
In the past, Mesoamericans had wrapped something together to eat including peppers, avocados, squash, tomatoes, and mushrooms. Since the arriving of Spaniards, they brought wheat and pigs to wrap and fill.
Burrito is the Spanish word for "little donkey," and the dish may be so named because it resembles the bed linens that donkeys carry on their backs. It was not until 1895 that "burrito" was first appreared in the Diccionario de Mexicanismos. The partial definition stated that a burrito is a rolled up tortilla, with meat or other food inside, called a coçito in the Yucatan and a taco in Cuernavaca and in Mexico City. At the time, "burrito" was mainly used in the Guanajuato region of central Mexico and in Guerrero.
The latest version of burritos is came from the United States, around California's Central Valley where they are eaten by Mexican agricultural workers, who pick produce in the fields and bring them tortillas with beans and hot sauce for lunch. Burritos has firstly appeared on restaurant menus since 1930s in El Cholo Spanish Cafe in Los Angeles. They first appeared in 1934, in Erna Fergusson's Mexican Cookbook and the New Mexico. Burritos has gradually changed by the time, with their changes mainly taking place in Southern California. In the United States, today's burritos are made with many of the ingredients mentioned earlier, while in Mexico, burritos are usually just meat and beans or rare beans in the states of Sonora and Baja California.
There are many different styles and varieties of burritos. Burrito became increasingly popular in San Francisco after its first serving at the El Faro restaurant in Mission County in 1961. The first frozen burrito was appeared in 1964. The kosher burrito which was believed to have origin from Los Angeles, was made of pastrami and cheddar cheese. A Denver specialty is the Mexican hamburger, which is a burrito stuffed with a hamburger and dipped in chili sauce. Fried burritos are called chimichangas. Chipotle Mexican Grill opened in Denver in 1993 with most famous burritos.
The breakfast burrito was probably invented in 1975 by Tia Sophia's of Santa Fe, New Mexico. It consists of a tortilla with bacon and potatoes, topped with chili and cheese. Today, breakfast burritos are usually made with eggs, chorizo, and spices. McDonald's started serving hot dog burrito in 1991; it consists of a flour tortilla wrapped around sausage, scrambled eggs, American cheese, onions and peppers. Taco Bell launched the breakfast burrito in 2014. No matter when burrito is eaten, it is sure to bring happiness.
Reasons for National Burrito Day being loved
It inspires debates like no other day
Ask around your office, and we're sure everyone has a strong opinion about the perfect burrito. Californian burgers - burgers with fries - raw or are they good? Should the burrito be eaten with rice or is the rice a bland addition that takes away all the flavor of the burrito?
They are infinitely customizable
There are different favorites, but burritos are a type of foods wrapped in a warm tortilla. We may not agree on what's there, but we can all agree that they are delicious.
Personally, we love any dish that we can silverware and stuff our faces with. Who needs to look dignified when there's a meaty, cheese burrito waiting for you? Silverware just slows down the eating process, so we're all ready to throw away utensils on any socially acceptable occasion.
How to celebrate National Burrito Day
The best way to celebrate National Burrito Day is eating a burrito, of course! All you need is beef, tacos, beans, rice (unless you want to skip the rice), flour tortillas, and cheddar cheese. Cook beef with tacos, spread beans on tortillas, top with cooked rice, cheese, and beef. Roll up a tortilla, burrito, and you're good to go!
Throw a burrito party so you can have fun with everyone's favorite Mexican food with your best friends. To have various burritos, how about organizing a party in the form of a burrito bar. Offers tortillas and a variety of fillings, so everyone can prepare their burrito the way they like it.
Visit your local family restaurant
Everyone has a favorite Mexican restaurant they're super loyal, Chipotle or Taco Bell don't count. Visit your favorite restaurant and order your favorite burrito. You will do something kind for the local business and also for your stomach. It's a win-win situation for everyone.
Observed
National Burrito Day has been observed the first Thursday in April.
Dates
Thursday, April 1st, 2021
Thursday, April 7th, 2022
Thursday, April 6th, 2023
Thursday, April 4th, 2024
Thursday, April 3rd, 2025
Also on Thursday, April 6th, 2023
You may so like