American Painters Day
American Painters Day is observed next on Saturday, February 3rd, 2024 (66 days from today).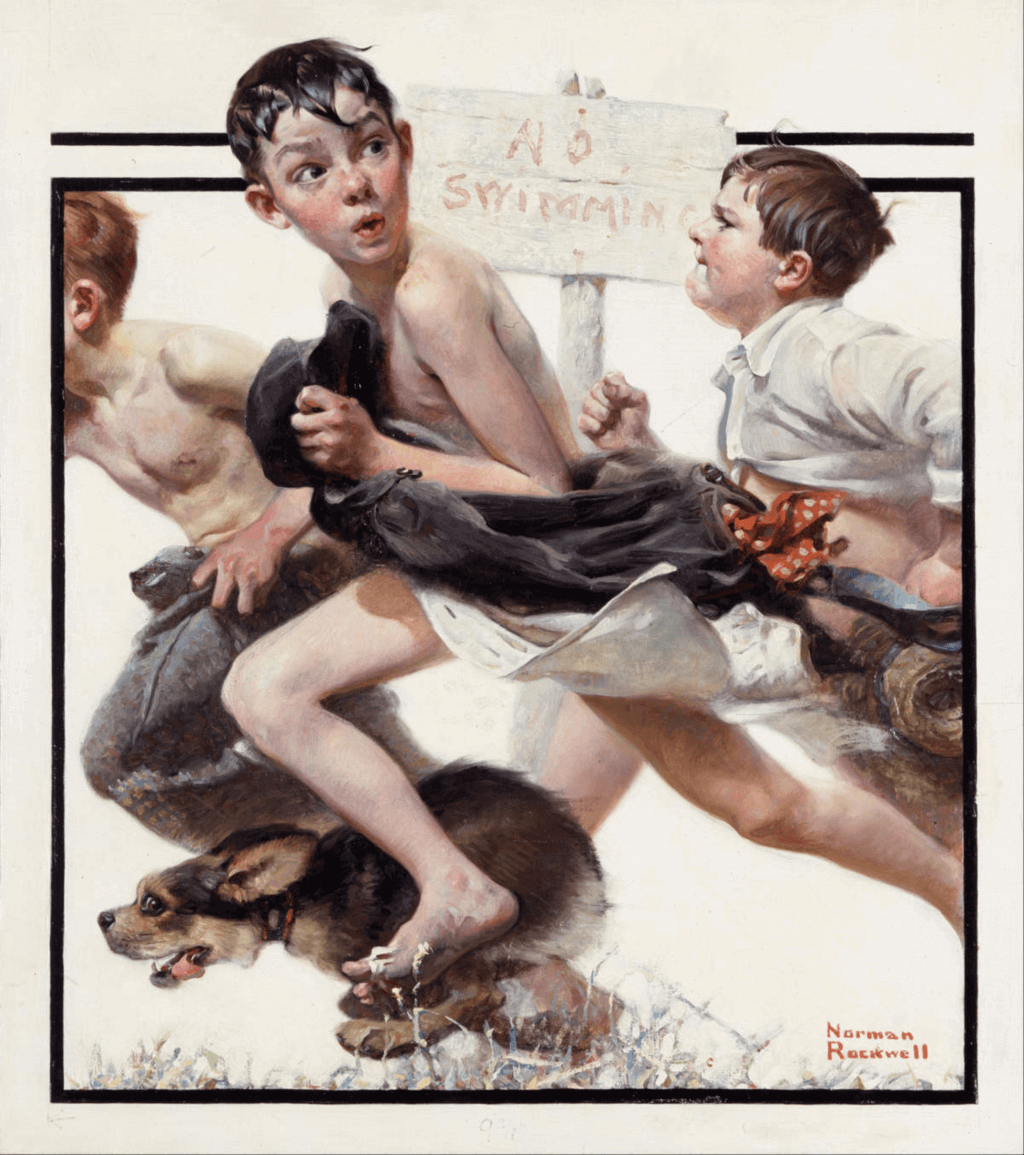 American Painters Day is annually on February 3rd to honor all American painters.
History of American Painters Day
A paintbrush, some canvas, an easel, and some paint are just a few of the tools that artists use to do their work. There are painters all over the world, but on American Painter's Day, we honor those from America. Although the holiday honors all American painters, there is a special emphasis on Norman Rockwell, who was born in New York City on this day in 1894.
Rockwell began taking classes at the New Art School at the age of 14. A few years after dropping out of high school, he enrolled at the National Academy of Design. He quickly transferred to the Art Students League of New York. After graduating, he began working as an illustrator for Boys Life magazine.
Rockwell portrayed American life and Americana, which made him a quintessential American painter. He became famous for the covers he created for The Saturday Evening Post. He painted his first cover for the Post in 1916, at the age of 22, shortly after marrying his first wife, Irene O'Connor. He continued his work for 47 years with 321 painted covers. His paintings depict life in a small town and include scenes that people all over the country can associate with. These simple scenes are often imbued with humor. He paints what he sees around him, albeit an idealized version of it. His paintings for the magazine - and his work in general - were well received by the general public, but not most of the critics, who saw him as lacking in artistic talent.
Although most of his early work - including the covers of The Saturday Evening Post - was considered to avoid the issues of the day, Rockwell did not always do so. The most notable was President Franklin Roosevelt's Four Freedoms speech, in which he outlined his four fundamental freedoms, freedom of speech, freedom of worship, freedom not to want, and no fear inspired Rockwell to make paintings that corresponded to those freedoms: Freedom of Speech, Freedom to Worship, Freedom from Want, and Freedom from Fear. Collectively, the paintings are known as the Four Freedoms. They appeared in The Saturday Evening Post and were widely loved. The original paintings have raised $130 million for the war effort. Today they are considered his four most important paintings.
In 1939, Rockwell moved to Arlington, Vermont, with his second wife, Mary, and three sons. In 1953, he moved to Stockbridge, Massachusetts. After Mary's death, Rockwell married Molly Punderson in 1959. She gave him the courage to finish his stint at the Post Office, and he soon began making the cover of Look magazine. It was then that he began to focus more on social issues, incorporating related topics into his work, such as race, poverty and the Vietnam War. One of his most notable paintings of the era was The Problem We All Live With, which appeared in the pages of Look.
During Rockwell's final years, he built up the trust and founded the Norman Rockwell Museum. He was awarded the Presidential Medal of Freedom by President Gerald Ford in 1977. Norman Rockwell died when he was 84 years old on November 8, 1978.
Although American Painters Day pays special attention to Norman Rockwell, all other American painters are honored on that day as well. Long before the United States became a country, painters spread across its landscape. The first people leaving their mark is Native Americans. When the Spanish settlers arrived, they brought religious art with them.
During colonial times, painters migrated from England. One was John Smith, who arrived in 1728. Settling in Boston, he became a portrait painter and print salesman. American painters of the late 18th and early 19th centuries mainly painted portraits. Gilbert Stuart was another portrait painter of his time. The paintings that he drew of government officials when they took office, were used on postcards later.
Some painters also painted landscapes, mimicking their work after British painters. Patriotic art became popular during the American Revolution, and historical painting was a big part of that. Some famous artists of the time who specialized in historical paintings included Benjamin West and John Singleton Copley. John Trumbell is known for painting major battle scenes of the Revolutionary War. Border painting was another favorite of the era.
At the beginning of the nineteenth century, the infrastructure for training painters began to take shape in the United States. The Hudson River School, which began around 1820, was an artistic movement that formed the basis of this infrastructure. Thomas Cole and other artists in the group influenced those who came after them. Robert S. Duncanson, one of the country's first important African-American painters, was also part of the Hudson River School.
Historical painting was less common in the 19th century, although Emanuel Leutze's Washington Crossing the Delaware was an exception to that generalization. Some of the prominent portrait painters of the time included Ammi Phillips, Thomas Sully, and G.P.A. Healy. John James Audubon, an important first naturalist of the country, recorded birds. The Birds of America is one of the most critically acclaimed bird works. While Audubon focuses on birds, George Catlin depicts the West. Thomas Eakins was a realist painter of middle-class life, his work contrasting with the romanticism of many others. He was not appreciated during his lifetime but has since been.
American Impressionism was a popular style in the last decades of the nineteenth century, and American Realism, using socially conscious imagery, made its name in the early years of the century. The painters of this group included the so-called Ashcan school painters. Led by Robert Henri, the Ashcan school painters depicted the sordid features of city life in their work. After these painters came the modernists.
After World War I, there was a resurgence of realism, which depicted urban and rural scenes. Painters like Grant Wood, Reginald Marsh, Charles Sheeler and Edward Hopper are also on the list. Other artists of the time focused on the Southwest landscape, Georgia O'Keeffe being one. While other artists have mainly focused on the Southwest landscape, Georgia O'Keeffe is one of the most prominent. Meanwhile, in Harlem, the Harlem Renaissance was an African-American art movement that included writers, musicians as well as painters.
During the Great Depression years, Franklin Roosevelt's New Deal brought in a number of painters, giving them jobs in popular art. The three programs that are part of this project are the Public Works Art Project, the Federal Art Project, and the Works Progress Administration. The latter is the best known of the three. Other art movements continued to flourish during the Great Depression, including Regionalism and Social Realism. Some notable American painters from this period include Thomas Hart Benton and Grant Wood, who were mentioned earlier.
After World War II, New York City became the center of the art world, taking over the position that Paris had held. This was largely due to the rise of abstract expressionism, the first internationally influential American art movement in which artists expressed emotions and sentiments through abstract art, Use spontaneity, instinct, and intuition. These painters are known for their use of large canvases and experimental paint applications, including strong and unusual brushstrokes.
In the following decades, as the 20th century progressed, various movements stemmed from or responded to abstract expressionism, such as Neo-Dada, minimal art, and lyrical abstraction. The rise of other new art movements was also born, such as popular art, the Gulf Figurative Movement, and Neo-Expressionism. Some prominent pop artists are Andy Warhol and Roy Lichtenstein. American art and painting in the twenty-first century largely reflects Cultural pluralism: many things happening at once, with no clear direction. Today, we honor these modern American painters, as well as all of their predecessors, and pay special attention to Norman Rockwell, who was born today.
How to celebrate American Painters Day
American Painters Day is a day to pay tribute to all 17th-century painters including Hendrick Couturier, Jeremiah Dummer, Thomas Smith, and many more. This day is a great opportunity for all the famous artists and painters of the 17th and 18th centuries. On this day, many people come to visit museums, painting and art exhibitions in the United States. This is also a simple yet effective way to celebrate this day. In addition, people also post on social media on this day to spread awareness and greater appreciation of all artists and their works of art. Don't forget to use the hashtag #AmericanPaintersDay.
Observed
American Painters Day has been observed annually on February 3rd.
Dates
Thursday, February 3rd, 2022
Friday, February 3rd, 2023
Saturday, February 3rd, 2024
Monday, February 3rd, 2025
Tuesday, February 3rd, 2026
Also on Saturday, February 3rd, 2024
You may so like