Seeing Eye Dog Day
Seeing Eye Dog Day is observed next on Monday, January 29th, 2024 (125 days from today).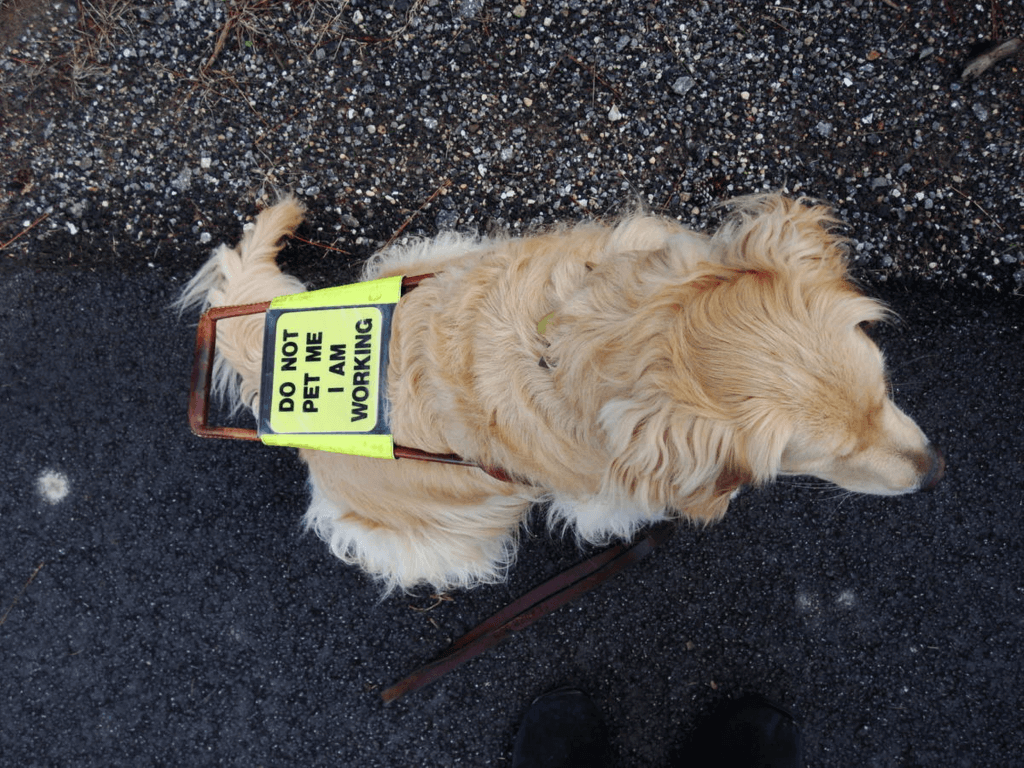 Guide and assistance dogs can help people with disabilities or health conditions lead independent lives, giving them a level of freedom to live independently that they could only dream of. Seeing Eye Dog Day is celebrated every year on January 29 to honor guide dogs.
Although many different breeds have the potential to act as guide dogs, most guide dogs come from three breeds. This is not only because of temperament, size, strength and health, but also because these breeds are intelligent and highly receptive to training. Guide dogs have a responsibility to lead and protect their owners, and that kind of responsibility can only be assigned to a particular animal. The most suitable dog breeds for the task are 3 breeds. Most guide dogs are Labrador retrievers. They are patient, responsible, and intelligent enough to go through the training and accept the responsibilities of a guide dog. Golden Retrievers and German Shepherds are also used as guide dogs around the world because like Labrador retrievers, they are disciplined, protective and efficient guides. However, not just any dog of one of these breeds will do. Training organizations work carefully to select only the healthiest, best-adjusted dogs for their program, ensuring that they can train trusted partners for guidance and care about human. While these training organizations may use other breeds, such instances are relatively uncommon. These three breeds are often chosen.
History of the National Seeing Eye Dog Day
Guide dogs began to be used around the world since World War II. For the purpose of guiding soldiers affected by the war. Morris Frank is known to be the first beneficiary of a sighted dog in America, a dog named Buddy. In 1927, an American dog breeder living in Switzerland, Dorothy Harrison Eustis wrote about a guide dog show in Potsdam, Germany, and the article was published in the Saturday Evening Post. The article is about dogs being trained to be eyes for German veterans of World War I.
As soon as he read the article, Frank's father and he wrote a letter begging Eustis to train a dog for him. Agreeing to that urgent request, Eustis invited Frank to Switzerland. After a period of training with 2 dogs, Eustis and Frank found the most suitable dog, Frank named the dog Buddy.
In 1928, Frank returned to New York City, USA, where numerous reporters were waiting for him and Buddy to appear. And Buddy was excellent at guiding Frank through the crowded streets of traffic and people. Upon returning home, Frank texted Eustis "Success" to announce his joy.
January 29, 1929, the see eye was founded, Frank and Eustis are co-founders. To date, the see eye is the most enduring and sustainable guide dog training school in the world. And Seeing Eye Dog day takes The See Eye's founding date as the anniversary of the year. Thanks to guide dogs, many people's lives are gradually becoming more stable, and thanks to the eye of sight, many public policies are improved for those in need of guide dogs and for guide dogs.
Observing the National Seeing Eye Dog Day
To celebrate Seeing Eye Dog day, send your gratitude to guide dogs who are fulfilling their mission day by day, making lives better for more people. If you love guide dogs, you can also watch dog training videos and try them out with your dog. Share your Seeing Eye Dog date on social media with the hashtag #SeeingEyeDogDay.
Observed
Seeing Eye Dog Day has been observed annually on January 29th.
Dates
Saturday, January 29th, 2022
Sunday, January 29th, 2023
Monday, January 29th, 2024
Wednesday, January 29th, 2025
Thursday, January 29th, 2026
Also on Monday, January 29th, 2024
You may so like