National Cherry Cheesecake Day
National Cherry Cheesecake Day is observed next on Tuesday, April 23rd, 2024 (139 days from today).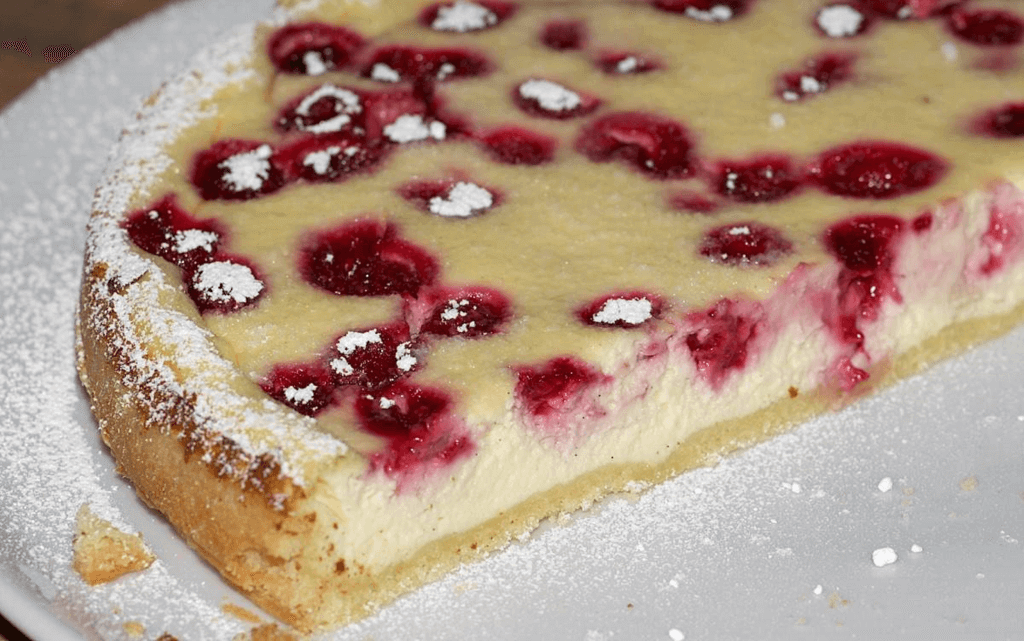 National Cherry Cheesecake Day is annually celebrated on April 23rd in order to recognize the food holiday and call on bakers to prepare various cherry cheesecake recipes.
History of National Cherry Cheesecake Day
Although there was cherry cheesecake thousands of years, there is a huge modification to what is considered an iconic dessert until now. The crust can be anything from graham crackers to cakes and even muffins and the cheese inside isn't always cream cheese! Some recipes swap cream cheese for cottage cheese and are baked without the crust. To discover cherry cheesecake, you will see cherries at first. They are covered on top and are packed with vitamins and other nutrients. In addition to its tasty, cherries are loved because it has anti-inflammatory and antioxidants!
Cherries were not added to their cheesecake by the ancient Greeks; however, they were served a primitive dessert for thousands of years, even to their athletes during the first Olympics! Therefore, if you are wondering that you can eat cheesecake but still have a muscular body, the answer is of course, possible.
By AD 1,000, cheesecake had reached Europe. Roman armies have swept into Western Europe and Great Britain, taking their recipe with them! Although this dessert reached a huge achievement and spread widely, in the mid-1500s, there was a publication of the next cookbook to mention. Cheesecake became a popular and famous dessert later.
With its development, there was a new step in the late 1870s and considered as the main ingredient in smooth desserts. At present, Philadelphia Kraft is making cream cheese every day and cheesecake is more accessible than ever after its invention less than a decade. It helped to create the invention of the New York-style cheesecake we all love today, defined by its ingredients like cheese, cream, eggs, and sugar, which make cheesecake become cheesecake!
Why National Cherry Cheesecake Day?
This remarkable national day celebrates the culinary holiday known as Cheesecake Cheery. On this day, cookbooks, as well as baking enthusiasts, offer a wide variety of recipes involving cherry cheesecake. Among these recipes, there are some of them required cherries to be incorporated as part of the batter as well as other places where cherries can be placed.
Cherry cheesecake is a popular dessert of many people in the world. Unlike the crunchy nature of most cakes, cherry cheesecake has a soft texture. This dessert and pudding are similar. This texture comes from soft cheese as the main ingredient. Depending on the type of recipe you used, you can incorporate cream cheese or cottage cheese as part of your cherry cheesecake. Assuming the cheese is mixed with sugar, eggs or any other ingredient, the flour must be added as part of the crust. Among the most common crusts used to make cheesecake are graham crackers. Some other types of crust that can be used include cookie, cake, or cake crusts. However, some bakers prefer shell less cherry cheesecake. It's also important to note that the cheesecake may or may not be baked.
An importance of this particular dessert is its nutritional value, including the antioxidants constitutive of the red fruit, which protect cells from damage. If you can do it regularly, it helps to reduce the risk of heart disease. A day like this is very important, especially for cherry cheesecake enthusiasts. Because of it, people in this group always encourage appreciation of what this day stands for.
Some reasons for National Cherry Cheesecake Day being loved
Desserts have their origins in 2,000 BC. Greece, still popular until now, which makes it become a classic!
A suitable reason for getting in the kitchen and bake
When was the last time you made cheesecake from scratch? We have been a long time too. Cherry Cheesecake Day is a great day to spend time on sharing happy moments with your family and friends.
Cheesecake. Who doesn't love it? It's favorite and only mixes with cherries! Today is just for enjoyment, so choose a grocery store you've got your eye on.
How to celebrate National Cherry Cheesecake Day
Hold a Cherry Cheesecake Making Class
The most effective way to have a happy celebration is to organize a Cherry Cheesecake making class at home with your family or friends. Then you can share the cake together as a family or with your friends. This important day should be taken for your love and enjoy a Cherry Cheesecake with those closest to you!
Share Cherry Cheesecake with others
How about making your own Cherry Cheesecake with family members at home and then bring to school or workplace to share with friends and colleagues. Besides, gather and enjoy with colleagues and a customer is also an ideal way. Doing so will goes a long way in preserving the tradition of the occasion while also ensuring that it is never forgotten.
Schedule a Cherry Cheesecake making contest.
How about making a Cherry Cheesecake to take part in a contest and then share the cake to determine who prepares the best. Winners can be given gifts.
Share your photos as well as your opinion about this day on social media with the hashtag #NationalCherrycheesecakeDay in order to raise awareness of all people about this holiday.
Observed
National Cherry Cheesecake Day has been observed annually on April 23rd.
Dates
Saturday, April 23rd, 2022
Sunday, April 23rd, 2023
Tuesday, April 23rd, 2024
Wednesday, April 23rd, 2025
Thursday, April 23rd, 2026
Also on Tuesday, April 23rd, 2024
You may so like